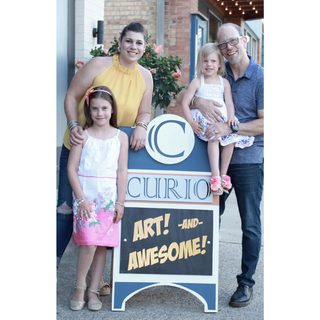 About us
Curio is an exciting art space that offers fine art, handmade artisan items, and art classes taught by PA certified and professional art educators. With the perfect balance of quirky and refined, it's a fun space for classes, art shows, events, and to pick up that little something you didn't realize you needed!
Owners and local art teachers, Jason and Lauren Shorr, wanted to bring a unique and exciting space to Zelienople that integrated their combined passions of art, education, and community! The result is CURIO, the area's first gallery and art studio space that offers handmade and designed creations showcasing local/regional artists along with exhibitions by the region's top fine artists. 
Art classes and workshops are offered in our dedicated art studios with a focus on student artists creating their own work with guidance by a certified PA Art Educator. Classes range from one meeting "make-n-takes" to weeklong workshop experiences and even the community's first full ceramics studio.  Adults can organize their own group and work collaboratively with CURIO to customize an art event tailored to their unique ambitions.  CURIO focuses more on art education through techniques, materials, and experience rather than the typical craft projects many have encountered with other studio workshop spaces.
Rotating art exhibits by regional artists are featured throughout the year in our gallery space alongside our high-quality handmade gifts. Receptions for our artists are hosted in conjunction with their exhibits to invite the community to experience and enjoy the visual arts.
At the heart of it all is a love for the arts and art education, a quest for the quirky, and an excitement to support regional fine artists and artisans!  CURIO is an exciting and unique space to visit in Zelienople!
Please check out the pages on this site to sign-up for classes and events as well as to subscribe to get the most up-to-date information on our exhibits and workshops  Also, don't forget to follow us on your favorite social media platforms!
CURIO is located at 113 N. Main Street in Zelienople.  We're right next to The Strand Theater!
Meet the team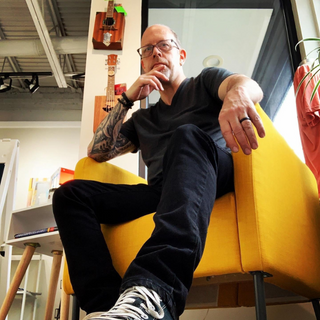 Jason Shorr, Owner
Jason is the co-owner of CURIO and a Zelienople resident. As an art educator of 27 years, Jason is employed by the Seneca Valley School District. He currently teaches grades 9-12 at the Intermediate High School. Jason is one of the PA Certified teachers here at CURIO and teaches both children and adult classes. His love for art and vintage Star Wars toys were part of the catalyst that led to the creation of CURIO. You can often find him in the basement rummaging through toys to prepare in the "Toy Lab" for the showroom floor to appease the discriminating toy collector as well as the casual curious POP culture customer.
Jason is also an accomplished artist with works in private collections as well as owned by the Eaton Corporation and UPMC. Jason's solo shows include Box Heart Gallery, Moxie Dada Gallery, JMS Gallery in Philadelphia, Whitaker Center for Science and the Arts in Harrisburg and with the Carnegie Science Center in Pittsburgh. His works have also been shown at Studio RAW and The McGowan Center for Regenerative Medicine. Jason is a member of the Associated Artists of Pittsburgh.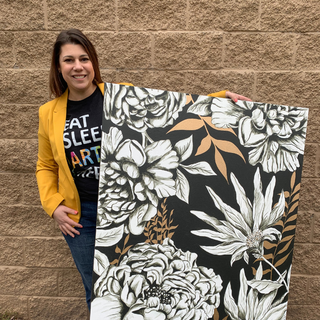 Lauren Shorr, Owner
Lauren is the co-owner of CURIO and a native Zelienople resident. As an art educator of 10 years, Lauren was employed as a K-6 elementary art teacher by the Butler Area School District before she left public education to follow her dream of teaching and facilitating CURIO. Lauren is one of the PA Certified teachers here at CURIO and teaches both children and adult classes as well as educational art events and even birthday parties! Her passion for art and education has led her to be the driving force behind the day-to-day success of CURIO. Lauren has a degree in Fine Art and studied art history at Slippery Rock University.
The art teacher in Lauren carries over into her enjoyment of educating our customers about the handmade items in our shop as well as about the various pieces of fine art in the gallery. Have a question about a process, technique or meaning of a piece you see in CURIO, ask Lauren for more information! Have an idea for an art event in our space or an inquiry about how we can help you with your interest and excitement about art…Lauren can help!
Debbie Markich
Don't let that gray hair fool you...she is young at heART! Debbie is the head of our store staging crew, window designer and decorator and most importantly our oil painter extraordinaire. While she has not been professionally trained, she has painted for well over 30 years. She continues to hone her skills and has taken many painting classes from artists, Bill Perry, Doug Elder, Sue Pierce and additional courses from Butler Community College. 
Debbie is a perfect fit for CURIO with her love of painting, stylish fashion and warm people skills...she is sure to make your experience shopping and taking classes here, a memorable one!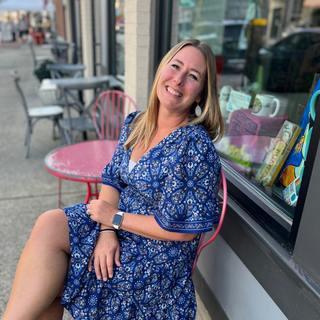 Anna Ezzolo
Anna is one of our team members, educators and our resident artisan maker. She loves being creative and using her skills through woodworking and DIY project creation. She's our resident digital media & content creator.
Anna comes to us as a Learning Development Specialist from the University of Pittsburgh where she also earned her Master's Degree in education. Anna's strengths, other than her fun-loving personality, are rooted in working with others to help them realize their creative side and aid them in honing their skill sets. Besides CURIO, Anna has created her own maker brand with "The Polished Pine" where she develops and sells her own DIY kits and products as well as sharing tips and tutorials.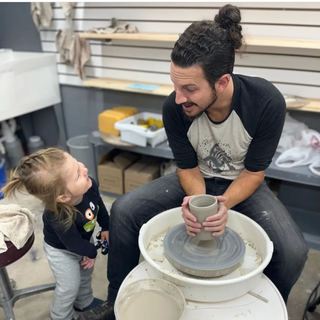 Joshua Hassan
Local artist Joshua T. Hassan has been studying and practicing pottery and art since his time at Slippery Rock University. After receiving a Bachelor of Fine Arts degree he continued his career in clay by starting his own small business called Piper's Pottery. An avid history nerd, he attends many medieval reenactments with his wife and son where they can often be seen in accurate garb selling his practical and functional pottery or playing highland bagpipes.
When he is not working his own business, Joshua strives to be a quality teacher in the clay community by emphasizing the fundamentals of a well structured pot from start to finish.